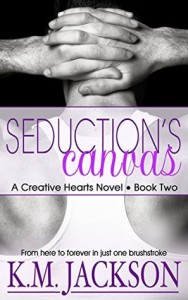 I'm giving up on K.M. Jackson books for now. Two DNF reviews in a row feels less like reviewing and more like piling on. I picked up Seduction's Canvas because it's in the third person. Jackson's Bounce has a lot of strong reviews, but the first person didn't work for me. Seduction's Canvas didn't either. I'm not connecting with her voice. The set up was perfect – wealthy artist from a prominent family looks for one last adventure before picking up the weight of her responsibilities. She's had her eye on a bad boy biker and security specialist but been too shy to make her move. I made it to just over 33% in before bailing.
Samara is a teller, not a shower. The book opens with her trapped in her family's limo while they discuss how her recent street brawl will affect business. Samara is vaguely ashamed the tabloids caught her in the act but also defiant. We learn that she doesn't trust men, that her father dominates her, that she's really into the biker next door, that her mother is submissive and nervous and that at least two events in her past have shaped her. The phrases "after what happened with Julian" and "what happened with Charles" are only a few lines apart. There was far too much information to sort out. Samara was dumping all this baggage on me before I cared that she had it.
Apparently something happened on an island because of Julian that led to Charles, who appears to be her brother, dying? IDEK. That might just have been the last bit of X-Men: First Class. I felt trapped and stifled by the opening section of the book in the same way that Samara feels trapped and stifled by her parents. Once she exits the limo she runs into Mark, the biker next door. I'm not sure why Mark becomes interested in her. Samara is 30 but she still relies on her parent's money while also resenting that she does. She's made life choices that treat her vocation as a hobby which gives her an air of arrested development. At 30, her parents should not be treating her life as a phase she means to move out of, nor should she be accepting their view of her career as her own.
I gave up. But because this is a second DNF in a row for me, I sought out a positive review for you. Little Black Dress Reviews appears to be on hiatus, but they enjoyed Seduction's Canvas quite a bit.
*This review first appeared at Love In The Margins.