Ian Williams presents us with a biographical tale of a troubled adult leading an outwardly successful life. With no apparent joy for anything but cycling, The Bad Doctor sifts through his daily obligations. No one is truly happy or satisfied in this pessimistic look at how we evade or embrace our inner demons. A troubled child with OCD becomes a troubled adult with OCD.
The Bad Doctor gives most he meets an unhappy-in-their-own-way diagnosis. Patients are rarely treated as people. Patients are a series of inconveniences in his day to be moved from his path. This may be an honest look at medicine, but it won't appeal to a mass audience. Williams demonstrates how this approach fails to serve medic or patient,  but with no counterpoints the reader is left bored. We meet the bad doctor, a worse doctor and the chick doctor. This is a male gaze book all the way.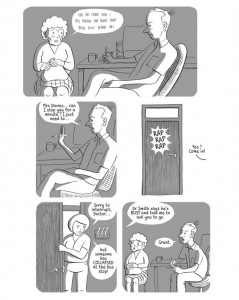 Our doctor is unhappy with his one dimensional wife. His children are financial obligations. He dreams of buying a fixie bike like the hipster he is. He ruminates on his troubled childhood and his failure to properly address his own demons while urging his patients to resolve theirs.
There's a gay best friend, a misunderstand local and a female colleague that inspires sexual desire. All of it adds up to his suicide fantasies and professional inadequacies. The Bad Doctor is fine for what it does, but otherwise forgettable.