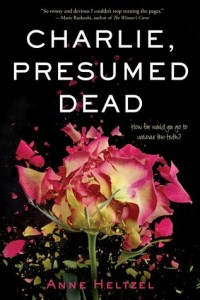 (This YA review was written by Spetzi, 11)
Charlie, Presumed Dead" by Anne Heltzel is a story that starts at a funeral, and ends in a third world country jail. If you liked the "Pretty Little Liars" series by Marrissa Meyers, you will simply LOVE this book.
In this book, Charlie Price is presumed dead after a exploded plane that he was piloting is found and his bloody blazer is all that they find as a body. At his hastily arranged funeral, his two girlfriends collide. Lena, Charlie's girlfriend for 3 years, meets his second and long distance girlfriend, Aubrey, who he has been with for a year. Together, they set off to find Charlie's secrets.
(Spetzi has placed the rest of this review behind a spoiler tag. Major plot points may be revealed. One note, a transgender character encountered in Thailand is referred to as a "Ladyboy". This may or may not be a correct term for the country but required a conversation about the terms use in this country.)
View Spoiler »
Lena has reason to doubt his death, while Aubrey has none and simply wants back what is hers. Lena, a party girl who is as wild as the sea and reckless as a toddler, boards a train to London with Aubrey in tow for the ride of her life. On their journey, they meet up with Adam, Charlie's old friend who Aubrey had an affair with, and got a lead for a drug dealer in Bombay (Mumbai). When they see the dealer, Anand, they take a trip on one of his boats to get information. But when Anand finds out their relationship with Charlie, he drugs their tea and pays Charlie's debts out of their wallets. With Anand gone and their money nowhere to be seen, they take their stabbed passports off the table and get on a trip to Bangkok as soon as they can.

While there, they meet Charlie's sister Dana ( who used to be his brother Dane) and learn that Charlie has more problems than death. In fact, Dana tells Lena and Aubrey how her brother IS alive, and planning to kill Lena while Aubrey suffers for it. To hide from the mastermind they used to love, Lena and Aubrey set out to have the craziest night of their lives because it could be the last of their happy ones. Lena goes missing from a bar, and Aubrey sets out to look for her on the plane they are set to board in an hour to take them back home. But she doesn't get a chance to check, because she is arrested before her passport is approved. Once locked in a cell she calls a cage, she must keep hope that Lena isn't dead like they say, and that she isn't a pschyo who made up all of her relationship with Charlie. « Hide Spoiler