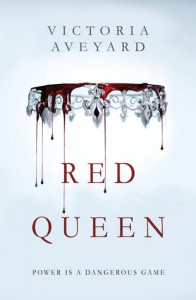 (This YA review was written by Spetzi, 11)
The Red Queen by Victoria Aveyard is one of my favorite fantasy books involving supernatural beings. My classmate got sick of me groaning when the teacher started a lesson, because I couldn't stop myself from sighing when I was forced to stop it!
(Spetzi has placed the rest of this review behind a spoiler tag. Major plot points may be revealed, or the book summarized.)
View Spoiler »
In this book, there are two types of humans: red and silver, the superiors. Or so they thought, but it turns out there are a select few with a mix of blood, stronger than both. The silvers live in sprawling cities, save for a few in a place called Gray Town. Nearly all the silvers have a place in the palace's court, as one of the houses or as part of the royal family. Up until the reds began an internal war, the only warfront the silvers ever faced was as generals in the front line's fortresses. A silver war being payed for in red blood. (That's one of my favorite sentences in the book).

Anyway, the two classes lived in almost-harmony with few troubles that the king couldn't pay off or murder quietly until red servant Mare Barrows fell into an electric shield and absorbed the shock into her body. That they had to be at least a LITTLE worried about. Mare was previously without a job, waiting for her conscription to the front lines when she turned 18. Then she met the crown prince, Cal, in a bar and he gave her a serving job at the palace. After the shield "incident" she was taken in as a lost daughter to dead silver war heroes and was watched carefully so she didn't spill a drop of her red blood. Betrothed to second son Maven, Mare wavers dangerously between loving him and loving Cal. She soon joins the red rebellion (The scarlet guard) with Maven and tries her best to learn the ways of silver court.

She doesn't feel helped by Cal's betrothed, a magneto named Evangaline from one of the high ranking silver houses, who has had her sights set on destroying Mare ever since she interrupted a performance with her "show of sparks". Victoria does an outstanding job at making Evangaline insufferable and it wasn't long before I hated her too. Maven turns out to be just as twisted as his manipulative mother though, and sends Cal and Mare into a murder stadium as traitors to the crown. Cal is convicted of the king's murder, and Mare gets the charge of faking her gift and silver persona. Honestly, Maven was just angry Mare liked Cal, and has some pretty bad anger issues his mother is NOT helping with. « Hide Spoiler
Read this book if you want an exciting book and have lots of free time you won't have to stop reading it in, because if you do you might annoy somebody just as much as I did.
(Note From Meoskop: Adult readers of The Red Queen had serious issues with the world building and felt key events were resolved without much logic to further the plot. However, Spetzi's reaction is consistent with other target market readers. This YA is meant for actual YA readers, among whom it's a hit.)