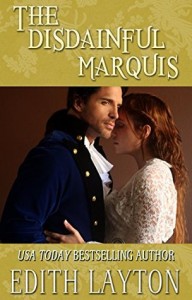 The Disdainful Marquis is a sequel of sorts to Edith Layton's The Duke's Wager. Unlike modern series convention, there is no introduction of former characters beyond the lead, the Marquis of Bessacarr. Older, wiser, infinitely odder, Sinjun is now a spy in the ongoing conflicts between France and England. He's come to the place his former rival once occupied, the moment when nothing is satisfying. Edith Layton loved that moment. She frequently placed her characters in situations that forced them to evaluate what they really wanted from life. I've always wanted just a bit more from The Disdainful Marquis than it offers.
From a genre history perspective, The Disdainful Marquis is almost unique. Mixed with the familiar tropes (mistaken identity, Englishmen running from French Terror, he loves her because she's a virgin) are the innovative touches that made me fall so hard and fast for Edith's work. Everyone in The Disdainful Marquis is sympathetic. There are no deranged villains as the primary villain's motivations are impersonal.
Catherine is eager to remove herself from her sister's household before the arrival of her first niece or nephew. It's easier to be a paid attendant for a stranger than an unpaid one for family. She wants the self-respect of making her own way and this fierce desire blinds her to unpleasant (indeed, unthinkable) realities. Her new employer is a duchess clinging to popularity through scandals. The duchess employs beautiful women then pretends ignorance of their sex work. In exchange, their clients find the duchess outrageously amusing. Catherine is without a clue what's expected of her.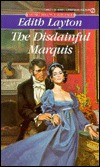 Once Catherine realizes her co-workers are paid escorts she makes every attempt to accept them. Catherine frequently apologizes for appearing judgmental. She never slut shames, nor does she act as though they are beneath her. While Catherine is troubled by her circumstance and uninterested in plying the trade, she accepts these women as friends. There's a bit of the moralizer about her at times, as fits the genre era and the character, but none of the disgusted shock. In turn, her companions try to accept her for herself. It's a great exploration of very diverse women awkwardly bonding.
She did not want them to see her revulsion, for in all, they were pleasant and helpful enough to her. And yet she could not reconcile their actions with her own standards, much as she lectured herself about tolerance and different values for different persons during the long days that she was alone in her room.

Layton, Edith (2015-04-28). The Disdainful Marquis (Kindle Locations 1706-1708). Untreed Reads. Kindle Edition.
Bessacarr is an ass, of course. He's where The Disdainful Marquis weakens. There's nothing between them to point at and say this is why they love each other. He loves her because she's a virgin, otherwise he'd only really, really like her. She loves him because he's attractive and less threatening than the other men in her circle. Early on an elderly gay man takes Catherine under his wing to explain that vice is a heady thing, easily adopted and difficult to discard. Catherine finds the truth of these words in her growing attraction to the marquis. Circumstances and desperation force Catherine and Sinjun's hand, leaving the reader feeling a bit rushed. Still and all, there's a reason the two Bessacarr books remain beloved by long time Regency fans. Catherine isn't allowed to wallow.
"I'm sure you've got important things to do, like watching fish and wondering about when life will straighten itself out and be kinder to you."

Layton, Edith (2015-04-28). The Disdainful Marquis (Kindle Locations 4010-4011). Untreed Reads. Kindle Edition.
This is another recurrent theme of Edith Layton's work. Her heroines aren't allowed to drop their agency at love's door. If they want a happy ending, they'd best pick themselves up and go get it. I hate worrying about what is and isn't a feminist romance novel, but I'm compelled to describe Layton's romance as deeply feminist in their insistence on female self determination. Her books close on wider notes than babylouges or weddings. Everyone goes home. They find the thing they needed and settle down to work on being satisfied with it.
The cat sidled in and made quickly for his basket by the stove, glad to be in from the night, in from his weary travels, in safely from the cold gray of dawn.

Layton, Edith (2015-04-28). The Disdainful Marquis (Kindle Locations 4155-4156). Untreed Reads. Kindle Edition.