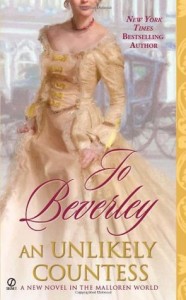 *Why can't we have eyes anymore? I feel like this cover is saying"Hello! Up here!" to the Art Department.
Rothgar, it's time to go. I adore you, you are one of the great romantic heros, you make other romantic heros look like pale anemic vampires, but I think we need to take a break. Here's the thing, I loved An Unlikely Countess, I adored An Unlikely Countess, I was ready sleep with An Unlikely Countess under my pillow, and then your wife showed up. She was a total buzz kill.
This book was so good without her. It was Joanna Bourne good. It was Sherry Thomas good. It was Meredith Duran good. Hey, I'll go all the way – it was Jo Beverley good. And then it was easy. The thing is, Cate (can I call the Earl Cate?) was a great romantic lead on his own. His family doesn't understand him, his mother can't really stand him, his older brother is a know it all bore, and Cate likes to rescue girls he finds in alleys. He's adorable. Sure, he's got a bit of an inferiority complex, being suited to caretake a manor and finding himself without one, but that's totally not a problem.
Then there's Prudence! She's a total snob and I love that she can still be one after falling so far down in the world that up would be defined as a change of clothes. That whole thing she's got going with her neighbor? Will tutor for food? Love her! As an older sibling myself, believe me when I say I've got her back. Younger brothers can be the very devil. Look at Cate! By the time the two of them find themselves shacked up as Earl and Countess I'm fascinated. The intricacies of upstairs / downstairs life, the dizzying tightrope of small town life, the nuances of family dynamics. I love that stuff. It was like Downton Abbey with half the cliches.
Then the drama had to escalate. And with the drama, a sudden resolution of all their problems, some of it initiated by a certain overbearing nobleman's charismatic wife. I'm not naming any names, Rothgar, but I think you know her. Really really well if you get where I'm going with this. Really. Well. Indeed. Yes. Her. She shows up and it's like a giant tying of the plot lines. I liked it better when Cate and Prudence were muddling on as best they could, without the big jolt of charisma. And really, if you sponsor all the lame little ducks, aren't you going to start to get a reputation for it? Rothgar, Lord of the Ducklings and Holder of the Socially Unformed. It's a bit of a mouthful.
Ah, why am I blaming you? You weren't even there. Probably, when you heard about it, you didn't even approve. Ok, you're right, you can stay. In fact, you can show up in every book of your time period ever. Because you're awesome. And so were Cate and Prudence, before A Certain Person cast them in her shadow. Can't you talk to her? Well I was just asking. No need to get like that about it. Fine! I'll read the next one. But I'm not promising to change my mind.