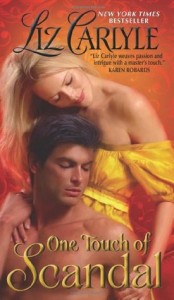 Never taunt your TBR pile, kids.
After the awesome read that was Wicked All Day, I was unprepared for One Touch of Scandal. This is one of those reviews where anything you say (no matter how true to your feelings) seems mean. I hated it so much I'm sorry there's a sequel. And perhaps the author feels the same way because the book advertised in the back of One Touch of Scandal, the serially named One Wicked Glance has been renamed The Bride Wore Scarlet (to be followed by The Bride Wore Pearls). Although Amazon sells One Touch of Scandal, you won't find it on their Complete List of Liz Carlyle Books nor is it listed on Amazon's Liz Carlyle Page. Unless you search by title, Amazon goes directly from Wicked All Day to The Bride Wore Scarlet without a book between. (They tried to warn me I suppose) I have an ARC of The Bride Wore Scarlet, so I'll report back next month on that.
On the positive side, our hero Ruthveyn's mother was from India. His heritage is handled fairly well (although of course he's into tantric sex). Our heroine had a French father so she gets her share of exotic in as well. Neither of them slip into offensive territory or use heritage as a substitute for character. There is also a nice scene at a tomb where Grace gives in to grief after being snubbed by the family of her former fiance. It's a bit odd that she just accepts the snubbing (time and again) for as long as she does but we will give her that – she is in mourning after all.
Ok, that's it. We've covered the parts I liked. There's a murder and it's only a mystery to the characters in the book. If you haven't figured out who did the deed by the end of the first chapter this might be your first time. In fact, the murderer seemed so obvious I thought it was a red herring and became annoyed as the clues toward that presumed red herring built up. But whatever, dead guy, suspicion, Grace on the run. She runs right into a (get ready) Super Secret Society of Psychics. No, this isn't a Jayne Ann Krentz book. Yes I know Liz Carlyle is better than that, but apparently a deep seated need to write about pseudo Masons and the Chosen Ones overtook her.  It's not paranormal, it's not steampunk, it's not even butter. I described it elsewhere as stumbling into a bad cosplay event where people were trying to bend spoons with their minds. I meant it. This is the lamest Boys Only, Girls Are Too Loud secret society ever. At one point Grace tries to tell Ruthveyn's sister that she's not psychic when the sister is all "Don't you find you are a good judge of people? AHA! You are just untrained!" I half expected her to add "And can't you always smell when the cookies are burning? AHA!" 
Right. So Ruthveyn finds Grace extra hot because he can't tell when she's going to die or what she's thinking (his super powers) meaning she might be his soul mate! I agree that seeing how someone dies whenever you touch them has to be unsettling at best, but this is one of my least favorite coupling tricks. "I understand you less than anyone else I know – I must have you!" For her part, Grace wants a family. Any family. A dog, a few kids, she just wants to get away from her Aunt and stay away. Ruthveyn will do just fine even before they find out… look, if telling you they are related is going to spoil the book for you then I have done you a favor. Grace has blood heritage to the Super Secrets too! Decoder rings for everyone!
I was done long before Ruthveyn cured his long standing drug use (he charms Grace with a Snoop Doggy Dawg imitation) via one night of sex. I was done before he caught a friend in a compromising position with a tabloid reporter and dealt with it by thinking sure, maybe they'd done some crazy stuff they'd both like to forget during those opium orgies back in the day but no way did that make anyone gay! Then Grace agrees. She knows that guy as well and no way is he gay. Not him. Nuh-uh. Look how upset he is at almost kissing a girl! Um, I mean, boy! There's more to that, for sure! What could it be? What? What could it be!
I'm hoping The Bride Wore Scarlet is significantly more enjoyable than One Touch of Scandal was. We're going to start with two problems. One is it being a sequel to this mess. The other is that Carlyle apparently ties her paranormal world into her previously established non paranormal families. I like Liz Carlyle, I'm pulling for her on this one, but I'd be lying if I said I wasn't scared.