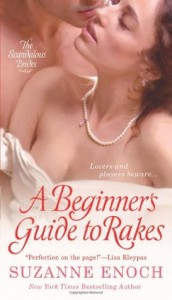 People are not happy with my Amazon review of The Beginner's Guide to Rakes, but I have to stand by it. Diane is batshit. By any yardstick you care to use, she is dangerously unhinged. Oliver at first seems to be fairly balanced  (if a walking STD) but by the end of the book you see why these two kids are together. I've seen a number of reviews focus on the title, completely ignoring the insanity contained within.
Look, I like Suzanne Enoch but she's a roller coaster of an author. When she's good, she's very very good and when she's bad, well, Sweet Jesus. I got over the whole conflating I-95 with the Turnpike thing in her West Palm Beach series, I got over half of the Adventurers Club, but I have no idea where we go from A Beginner's Guide To Rakes. Suzanne, it's not you but it is definitely, absolutely, positively Diane.
Ok, so let's spoil this one. There is no way to adequately represent how much Oliver needs a restraining order without doing so. When we meet Diane she is determined to open a gaming club. As a respectable young widow who lost everything to her dead husband's gaming ways, she has decided to turn the tables and become the house. Since her business partner is dead, her solution is to blackmail a former lover (Oliver) into loaning her tens of thousands of dollars and training her (all female) staff so she can realize her dream.
Forget the incredibly slender thread of blackmail she has. Forget that Oliver KNOWS she is a master forger. Just go with the fact that he will be blackmailed. Oliver knows she's a master forger because after her husband's death Diane forged all the non-entailed property deeds into her name. (Keep in mind, the rightful heir is the villain of this book. How DARE he want his family property after Diane suffered a bad marriage to his brother? All of that is hers!) Ok, so Crazy-pants Criminal is our heroine and Walking STD is our hero. (He's one of those guys who pulls out of one chick while thinking about banging another in a few minutes. How tedious of these women who want to be treated like actual beings instead of a vessel for his pleasure. How histrionic.)
Still with me?
Diane has her all female gaming club in the renovated downstairs of her stolen home with her blackmailed ex-lover living upstairs. Diane hates Oliver. HATES him. (Dead bunnies in the bed hate. Shredded clothes dipped in her own blood hate.) She hates him because after two great weeks in bed a few days after the death of her husband he left her. She carries a gun in her pocket, she is so angry. She checks drawers to make sure a gun is always at hand. She threatens to shoot him to get her money. A few days later, after some flirty action, he kisses her and walks from the room. So she shoots him in the back. Which everyone treats as normal. Of course you would. Never mind infection, never mind lack of antibiotics, never mind that she is batshit, who wouldn't shoot a guy after a kiss? Duh!
It's not like it slows Oliver down. No infection, no disability in movement, no discomfort wearing his clothes – within two pages he is his old agile un-shot self. Now he checks the rooms for guns before dealing with her, so her staff keeps threatening to shoot him. Soon Diane needs more money. When faced with a blackmailing batshit  gun-toting criminal who hates you, the obvious solution is to pay her to bang you. But not just bang you, Oliver has a whole romantic escapade planned. He left her high and dry after their two week fling because he was beginning to love her. Oliver, this isn't love, this is STOCKHOLM SYNDROME! Run, dude! Run fast and far!!
Even worse, this book is sequel bait. We're going to meet more of the ladies in the gaming club and their psycho self justifying boss in later books. By the time Oliver breaks through her ceiling for sex (while the club is open, the hell?) I'd lost any concern for him either. Benchley, the rightful heir of the house is not the bad guy! Trying to get his property returned is not evil! Toward the end of the book Enoch seems to realize this and hastily makes Benchley a slimy gambler who blackmails our loving couple. It's a too late. I can't even get into the society matrons demonstrating on the steps and being bought off with a charity version of Diane's successful Ladies Night, much less her tour of White's. I'm as much a fan of Romanceland as the next girl, no stickler for historical accuracy when a good tale is spun – but c'mon, son!
This book was one long WTF for me. It might be a brand killer, I have to sit and think about it for a time. Enoch and I, we had some good times together. We had some bad times together. But we've never had batshit times before. I never want to read about Diane again. If this is the launch of a series I'm going to have to sit it out.