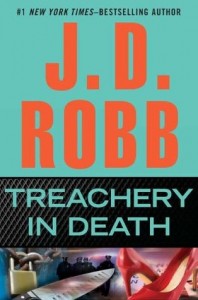 Does Nora Roberts even need reviews?
With a star author like Roberts it can seem pointless to write a review I could devote to a less well known author. As I only review books I think are worth looking at or ones I think are worth avoiding (I'd say I read five or six for every book I feel inclined to discuss) I generally give the major releases a pass.  Then Roberts writes something like Treachery In Death and knocks it out of the park.
Peabody dies.
Ok, ok, I'm kidding. (Spoiler alert!) Peabody does not die. (Maybe. I think. Who knows? You'll have to read it yourself.) One thing Peabody does do is find herself in an extremely dicey situation. So dicey that everything ends up on the table. This is the In Death I would go ahead and drop the cash on now. It's not that much more as an e-book than the eventual paperback will be and it's one of the best in the series. Tightly focused on Eve and her team, free of the angst that's been weighing the series down, this one brings the page turning suspense to the front and puts several major characters in new situations. This, the 40th (Really? Is that even possible?) story to feature Eve Dallas is also a great place to join the series. Everything you need is in this volume, no wasted time, no wasted characters.
Of course, Eve still ends the book a bit battered. That's how she likes it. Someday Eve is going to have to examine why every case needs to be closed with her face (even her husband is starting to notice) but it won't be today. Eve is too busy showing that she will eventually lead the NYPD and the only thing standing in her way is time.