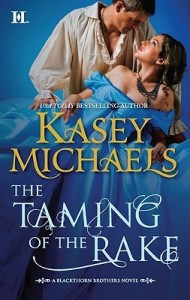 Kasey Michaels can be hit or miss for me. (I'd say it's about a 70% success rate.) This new series, The Blackthorn Brothers, starts off strong. The Taming of the Rake sets up the series premise – three brothers raised in the aristocracy as the bastard sons of their father and his wife's sister. The boys are raised in their father's household with warmth and all the care given legitimate children. Regrettably, this has led Beau Blackthorn to think his bastard status won't matter to the Lady Madelyne. He is very wrong.
Fast forward a number of years and Madelyne's sister, Chelsea, needs a husband fast. Her brother has fallen under the spell of a religious zealot and her sister is too involved in her own life to care. Chelsea sees Beau Blackthorn as her escape from marriage to her brother's spiritual leader. Being the direct sort, she walks right into his house and demands they elope. Problem is, Beau hasn't seen her since he was rejected by her sister. Chelsea, not being the sort to take no for an answer, soon has him on the road and headed for the altar.
Most of the action in The Taming of the Rake takes place as they hurtle from one destination to another, with events repeatedly redirecting them. Chelsea isn't terribly likeable, but if you accept that she is supposed to be a bit of a shrew (and much better than Madelyne) it's easy to warm to her. The set up for the brother's background is as original as the relationships between Chelsea's family members. I found The Taming of the Rake an enjoyable and light read that left me interested in the next two books. Unfortunately a secret hinted at in the close of The Taming of the Rake leaves me concerned. The premise of these men as bastards and the relationship between their parents is unique. I'm afraid there will be a last minute reveal of their legitimacy, some sort of being thought a bastard builds character moment that will undermine it all. I hope I'm wrong. This was a breezy read and a solid start to the trilogy. If you like Kasey Michaels at least as often as I do, it's worth checking out.