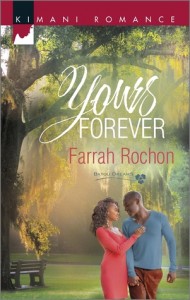 Oh book. We had such a complicated relationship, you and I. Every time I thought we were working it out you tossed me another curve ball. Let's talk about the good times first, shall we? In Yours Forever Farrah Rochon has created a small town I didn't automatically hate. Although we all know there's no way Tamryn West is returning to Boston, the appeal of Gauthier, Louisiana is strong enough to make up for it. She's a history professor, it's full of the stuff. She falls for the architecture and archives long before she falls for the lead. For his part Matthew Gauthier is interesting enough. He's an attorney from a long line of attorneys running for political office. Both of those jobs appear to take up approximately ten percent of his time so he fills the rest with charity work and chasing Tamryn.
Matthew is all about helping the people of Gauthier stay economically sound while keeping his family secrets buried. I found him very much a cake and eat it too character. He wants to run a clean campaign, but he also wants to get busy in public with Tamryn. His opponent, who has been trying to paint him as a womanizing playboy, somehow never gets wind of this so it works out. He wants to avoid the nosy professor who's been asking personal questions, but he also wants to take her to dinner. For her part Tamryn is equally conflicted. With her entire career riding on the results of this research trip she needs to interview Matthew without dating him. This leads to a lot of silly scenes where she refuses dinner but agrees to lunch. Because daylight, or business hours, or something?
I didn't feel that Tamryn and Matthew would be successful as a couple. She is attracted to his generous spirit but while one betrayal is revealed in the book others are obscured. He is completely bored by her life's work (history) although entranced by her passion for it. I'm not sure what they're going to talk about out of bed. I enjoyed Tamryn's confidence more than Matthew's martyr complex. He's also got daddy issues that won't quit. Unless she was doing that "Oh, I love food so I have to stop eating all these nasty, nasty calories that I earn through diligent exercise" stuff I strongly preferred Tamryn's company to Matthew's. (If the passionate but reluctant diner is a peeve for you, be warned.)
My primary interest was in the history Tamryn is researching. I would have preferred less about Matthew's political aspirations and more about the women that brought Tamryn to Gauthier. Hints are dropped that they participated in the Underground Railroad and that one's son married a slave woman before nearly burning down the town. Just that sentence is more compelling than Matthew's entire arc. Unfortunately, the history we did get struck me as highly improbable.
View Spoiler »
Tamryn discovers a flyer with a photo advertising their ancestors opening a school for free and slave children alike. My first issue was a flyer with a pre-Civil War photo. That's a non-starter. Assuming the photo is actually an engraving, why would the women highlight their faces with such an announcement? Educating free black children was on a completely different level than openly educating the property of nearby slaveowners. While slave focused schools existed for at least a hundred years prior to the war they were highly unusual and generally religiously affiliated. I needed an author's note to break all that down for me. Once I started thinking about it I wanted to read their story instead of Tamryn and Matthew's.

Matthew fires the housekeeper that he believes to be his father's mistress. He ruminates on how much her son looks like his father and wonders how many unclaimed children his father has. He does not maintain a relationship with his sibling and he dates widely in town. He is angry that his father, who has given him the family estate free and clear, hired the mistress. He wants his brother's mother to do what? Disappear? I get that Matthew considers his father dishonest and contemptible. Grow up, son. Walking around mad that Daddy had two families only works when you're young. You got the house and your brother got to clean it. Quit crying in your beer. « Hide Spoiler
*This post originally appeared at Love In The Margins.